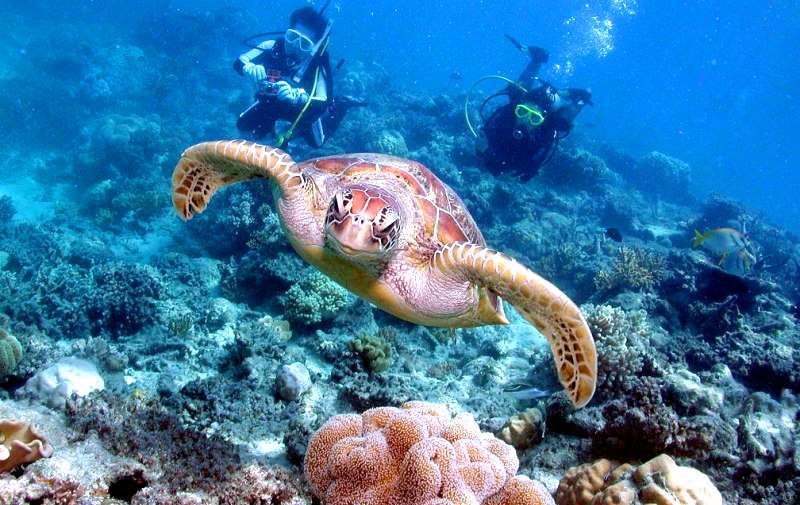 Covering an area of nearly 350,000 square kilometres and being labelled as the "Eighth Wonder of the World", the Great Barrier Reef runs parallel to the coastline of North Queensland, extending a distance of more than 2300 kilometres (1430 miles).

Beginning near the mouth of the Fly River at the south-eastern tip of Papua New Guinea and terminating off the shores of Bundaberg, just south of the Tropic of Capricorn, the Great Barrier Reef contains a fabulous variety of flora and fauna unequaled anywhere else in the world.

World Heritage listed in 1981, the Great Barrier Reef is the largest complex of coral reefs and islands in the world.  It consists of around 3000 distinct and separate reefs ranging in size from about a hectare to over 100 square kilometres and is home to an immense variety of unusual and beautiful marine creatures, including some 1500 species of fish and about 4000 different types of mollusc.

Cairns, with its international airport and tourist support infrastructure, is a location of choice for overseas visitors seeking to enjoy a relaxing and unforgettable tropical holiday.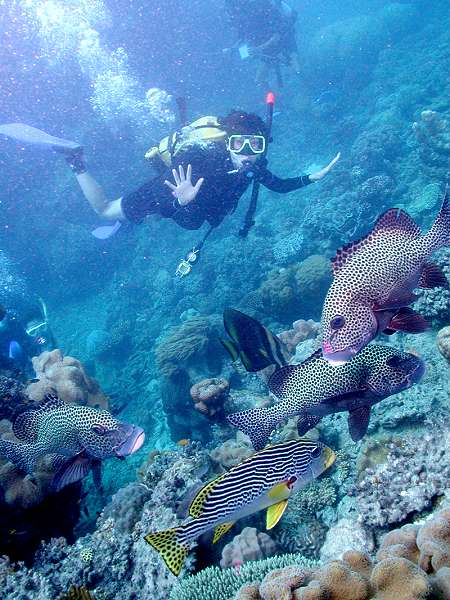 Off the coast of Cairns the Barrier Reef is closer to the shoreline than anywhere else in Queensland making it the ideal access point from which to begin an excursion.  The water is also more shallow than in southern areas, making it much safer and less intimidating for those keen to experience first hand the wonders and beauty of the world beneath the surface.  As well, the water temperature off Cairns rarely falls below 20 or 21 decrees Celsius, even during the coolest Winter.

Numerous Barrier Reef cruise operators offer day tours, departing from the Trinity Wharf Reef Fleet Terminal, Port Douglas Reef Marina and Cape Tribulation (half day trips, morning or afternoon) in the morning and returning in the afternoon.  They provide visitors with the best opportunities for viewing and enjoying the reef.  Many tours cater to both the novice snorkeller and the experienced diver, and for those who believe the ocean is only for sharks, glass-bottom boats and semi-submersibles provide close up views without having to even get wet.

A number of the bigger tour operators also have permanently anchored pontoons at various locations on the reef, usually in a protected lagoon where the water is calm.