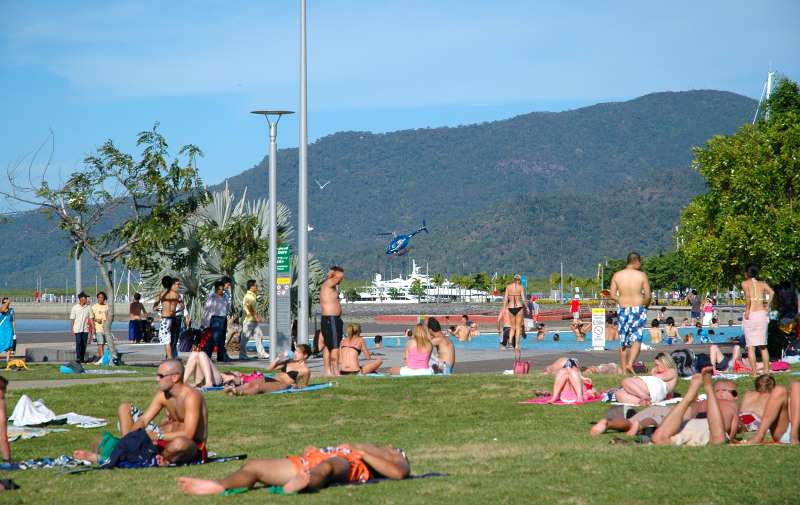 Even before gaining its international reputation, the Cairns Esplanade has always possessed an irresistible appeal and attraction. The long strip of grassy parkland, with its numerous shade trees, which stretches for more than two kilometres along the front of the city, has always been a place where locals have relaxed and enjoyed the tropical atmosphere with friends and family. Picnic and barbeque areas complete with tables and seating, children's playgrounds and covered areas, a magnificent view across the harbour and a cool, refreshing south-easterly breeze have all served to encourage people to come, relax and enjoy.

Today, with the unprecedented growth of tourism in Cairns, the Esplanade is a place where you can sit and watch the world go by. Thousands of visitors, from virtually all corners of the globe, can be seen daily, walking along this peaceful foreshore, taking in the sights and generally enjoying its many attractions.

The Cairns Esplanade is a place where locals and visitors alike are drawn together to enjoy a variety of life's pleasures. Whether it be a family outing of shopping and a take-away lunch, a pushbike ride, a walk or jog along the boardwalk, a swim in the refreshing lagoon, dining at one of the many seafood restaurants or footpath cafes, watching the migratory birds feeding on the tidal foreshore, fishing off the jetty, or searching through the market stalls for the perfect gift or souvenir, the Esplanade caters to all tastes.