Caution: This map is not the same as the map on the paper flyer.
1. MOSSMAN TRIANGLE - EXCHANGE HOTEL
Recently restored the Exchange Hotel now has a "Responsive website" Mossman Exchange Hotel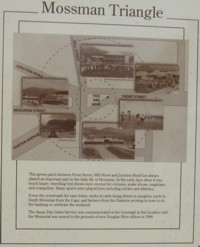 tap on image
a. The grassed patch between Front street, Mill Street and Junction Road has always been a place of public use.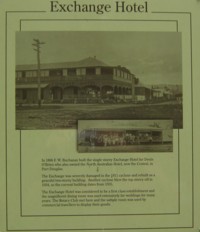 b. The Exchange hotel has seen many building changes brought about by successive cyclones but has remained throughout as a place of social importance.
2. NATIONAL BANK OF AUSTRALASIA
tap on images
This is an example of adding an impressive classical temple facade to a simple timber building to portray an important image for, in this case, a bank. The building is registered on the Heritage Register of the National Estate and the Queensland National Trust.
Mossman's only armed bank hold-up took place here in 1983 when a high school student robbed the bank and tried to get away on his bicycle.
3. MOSSMAN CENTRAL MILL - SCHOOL OF ARTS
a. The Mossman Central Mill Company Limited was established in 1894 with the first sugar cane crushing on 23 August 1897
b. A School of Arts was the cultural heart of many country towns and Mossman had one as early as 1892. In 1921 the mill financed a public library in this building.
4. CORONATION HALL, PHOTO PLAY THEATRE, LUNN's GARAGE - POST OFFICE HOTEL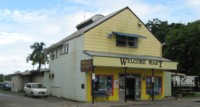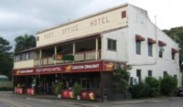 a. Extensively damaged by the devastating cyclone of March 1911, the Coronation Hall was re-built to eventually become the Photo Play Theatre.
b. Dick Lund opened Mossman's first garage in front of the theatre and established the Post Office Hotel next door in 1909.
5. POST OFFICE - QUEENSLAND NATIONAL BANK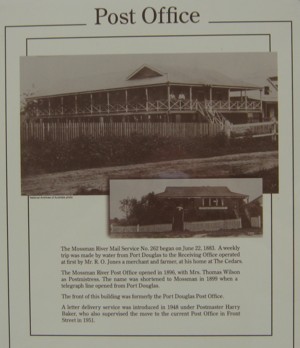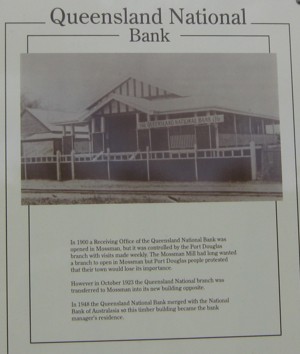 a. A post office at this settlement known as Mossman River opened in 1896. The name was shortened to Mossman in 1899 when it became linked by telegraph.
b. Mossman residents pleaded with the Queensland National Bank for autonomy from the Port Douglas branch when the mill was built. In 1923 that branch was transferred here.
6. RAILWAY STATION - TRAMWAY NETWORK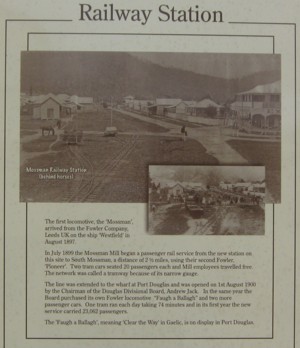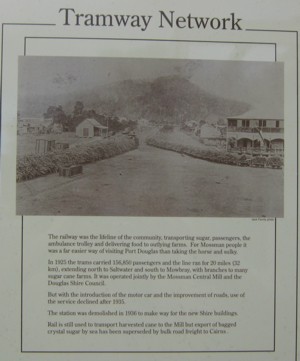 a. The was the base for the mill's passenger service to South Mossman. When the line reached Port Douglas the service grew to three return trips per day.
b. In 1925 the trams carried 156,850 passengers and the line ran for 32 km from Saltwater (north) to Mowbray (south) with many branches to cane farms in between.
7. ST AUGUSTINE's CHURCH - MOSSMAN BUTCHERS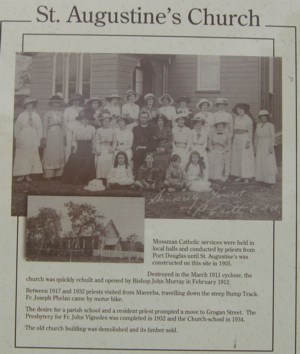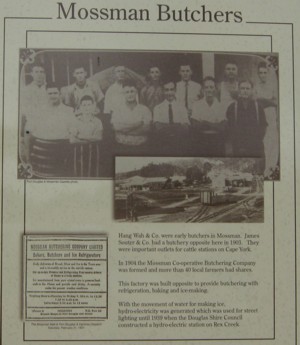 a. St Augustine's Catholic Church was built in 1905. Destroyed in the 1911 cyclone, it was quickly re-built and opened by Bishop John Murray in 1912.
b. The Mossman Co-operative Butchering Company was formed in 1904. Later their factory provided butchering, baking and ice-making.
8. DANIEL HART (Coolshade) - St DAVID'S CHURCH
a. Dan hart was the first settler in Mossman having arrived in 1874 to exploit native stands of timber including Red Cedar, a softwood in high demand.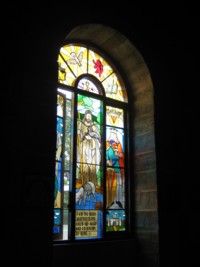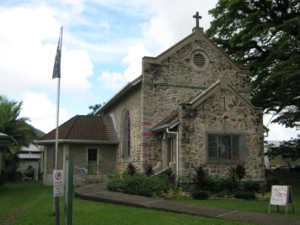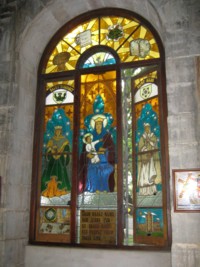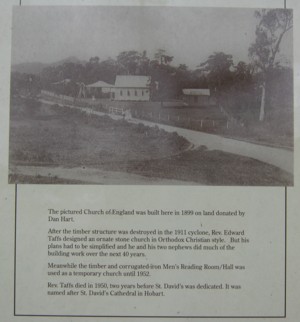 b. St David's Church of England was originally built here in 1899. A victim of the 1911 cyclone it was finally replaced by the present stone church in 1952.
9. Blacksmiths - Foxton Bridge.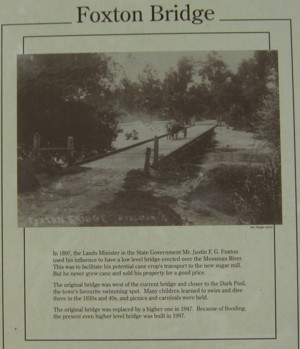 10. Jack & Newell - Queens Hotel.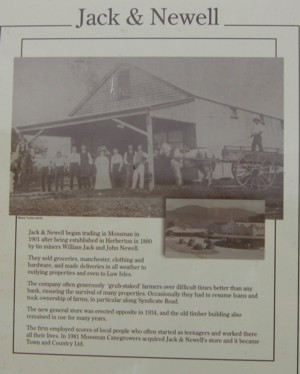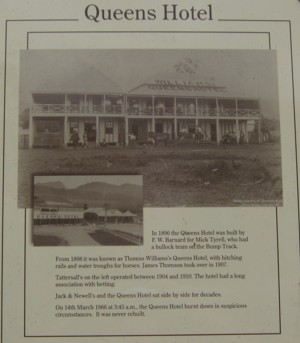 11. Mossman Hotel.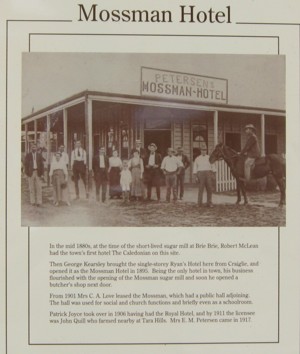 12. Royal Hotel - Jensen's Cordials.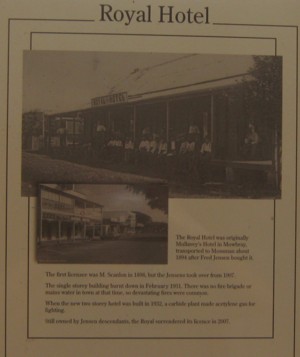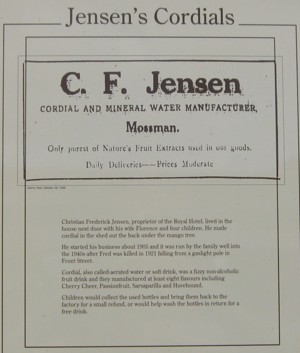 13. Police Station - Court House.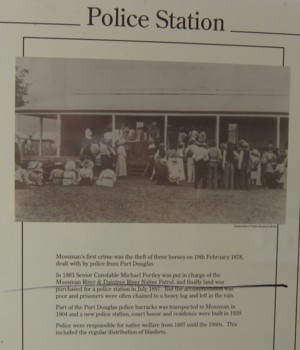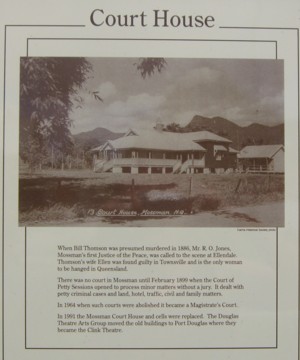 14. Ambulance Station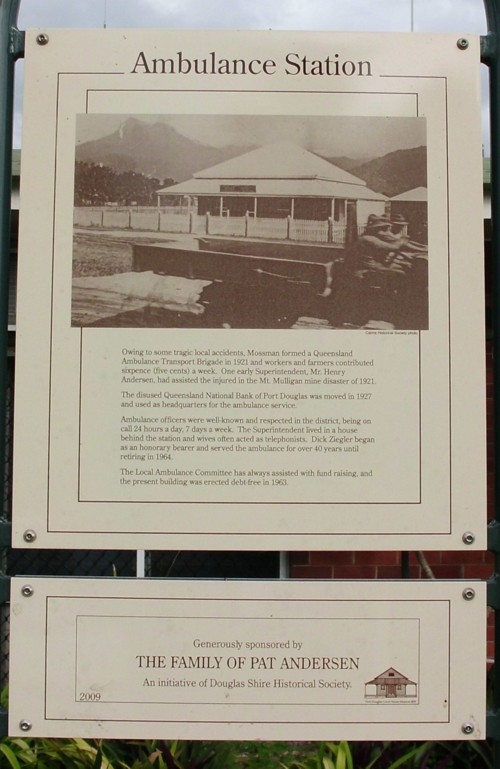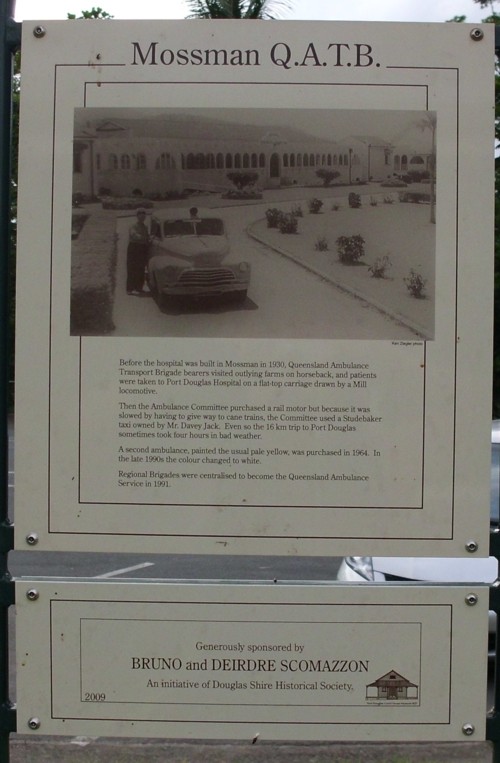 15. Dedicated to the Chinese influence at the beginning of the twentieth century.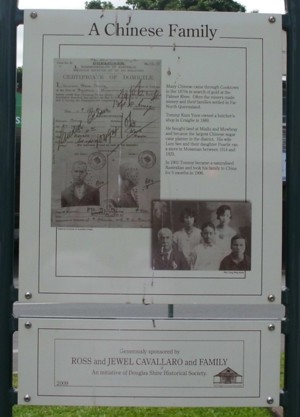 16. Jones Family Cemetery. See map. This small cemetery is on a blind bend on the main Mossman Daintree Road. If you intend visiting it please be careful. It would not be wise to park a car at the cemetery. Park elsewhere and approach on foot paying attention to the passing traffic traveling at 80 km per hour.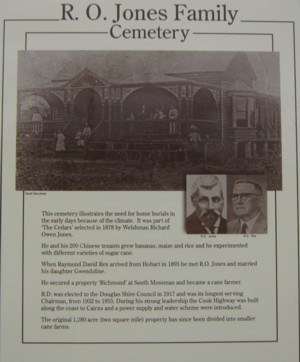 .