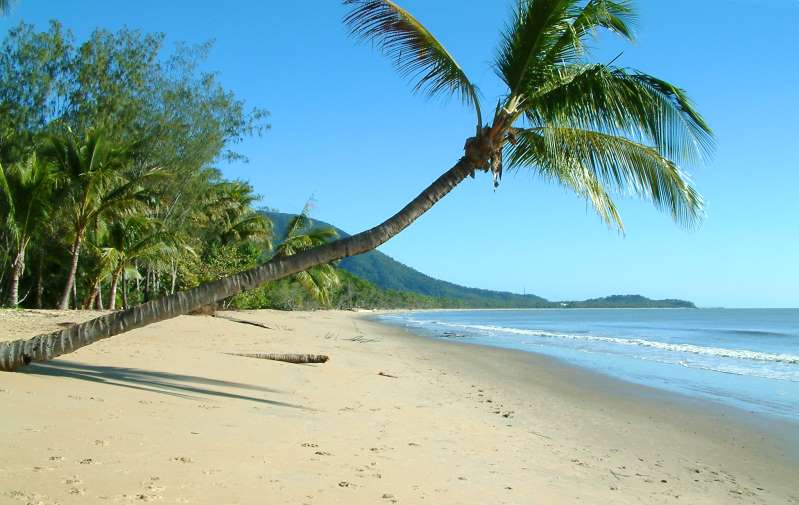 Approximately twenty-one kilometres north from Cairns business centre and with a population of just over 3000 people, Kewarra Beach is a developing residential suburb with only limited beach access.

With Taylor Point, an abrupt and prominent rocky peninsula, forming its southern boundary and separating it from Trinity Beach, and the mouth of Deep Creek separating it from its northern neighbour, Clifton Beach, there is essentially only one entry point on to the beach proper, and that is through a car park at the northern end of Kewarra Street which runs parallel to, but well back from the beach foreshore.

Its limited access has contributed to Kewarra Beach being perhaps a little less popular for swimming and family outings than some of the other beaches along the Marlin Coast, never-the-less it is still frequented quite regularly by locals and visitors alike.

The beach is well protected from the prevailing south-east trade winds by Taylor Point, and therefore has little surf or waves, making it an ideal beach for families with young children. A barbeque and picnic area exists adjacent to the car park.

Kewarra Beach has a small shopping centre that supplies most necessities and has a regular bus service which provides transport to other nearby beach communities, as well as to the Smithfield Shopping Centre and into the city of Cairns.

As with all of the Northern Beaches suburbs, Kewarra Beach is accessed by following the Captain Cook Highway northward out of the city. The turn-off to Kewarra Beach is clearly signed along the highway.